Your adrenal glands sit above each of your kidneys and produce hormones that play a significant role in how your body operates. Your metabolism, overall immune system, blood sugar and blood pressure regulation are a few of the essential functions in which your adrenal glands play a role. In some cases, a surgical procedure to remove one or both adrenal glands is recommended. This is called an adrenalectomy.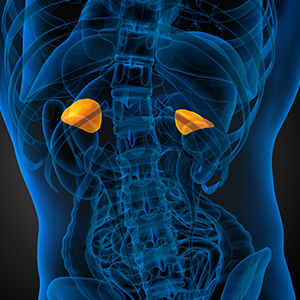 Why are adrenalectomies performed?
According to Austin Surgeons board certified general surgeon Brant Victor, MD, there are three main reasons adrenalectomy might be necessary. These include:
Large or enlarging tumors measuring 4 cm or more in one or both of your adrenal glands. Although most are benign, tumors of this size are removed given the progressive risk of cancer.
Tumors of any size that produce too much of a particular hormone could adversely affect blood pressure, electrolyte production, blood sugar, your ability to metabolize fats, carbohydrates, or proteins, sex characteristics, and immune function amongst others.
Suspicion of cancer arising from the adrenal gland or spread from another site (typically kidney or lung).
What to expect during my adrenalectomy?
Dr. Victor says adrenalectomy is almost always performed using a minimally invasive laparoscopic or robotic technique. The advantages of minimally invasive adrenalectomy is less post-operative scarring and pain, faster recovery time because there are no sutures or staples to remove and a shorter hospital stay. Minimally invasive adrenalectomy is performed under general anesthesia and typically takes about 1 1/2 to 2 hours followed by an overnight observation in the hospital or surgery center.
Some large tumors may require an open surgery technique. Your surgeon will always discuss your individual treatment plan with you during your pre-op appointment. You can also review frequently asked questions prior to your surgery.
What to expect after my adrenalectomy?
Immediately after your surgery, you'll likely have some minor discomfort in your shoulder and the incision site. Nonstrenuous activity such as walking is encouraged after surgery, but you should avoid heavy lifting and athletic activity for about a month. It will take time for your hormones and surgical site to recover, and it's important to follow your doctor's instructions.
Although we're born with two adrenal glands, only one gland is needed to provide adequate hormonal function. If you have both adrenal glands removed, lifelong steroid replacement will be necessary.
About Austin Surgeons
All Austin Surgeons board certified general surgeons are well trained and experienced in adrenalectomy. Our physicians have over 100 years of collective experience and are committed to offering the most advanced surgical techniques.
To learn more about the surgical treatment of melanoma, visit austinsurgeons.net or call . For the latest Austin Surgeons news, follow us on Facebook and Instagram.